Cost-effective Ethernet Adapter Solution
With increasing workloads, data centers are turning to virtualization strategies to enhance utilization and looking for ways to tackle and data analytic and access to storage. The NVIDIA® Mellanox® ConnectX®-4 Lx offers a cost effective solution for delivering the performance, flexibility, and scalability needed to make infrastructure run as efficiently as possible for a variety of demanding markets and applications.
10/25/40/50 Gigabit Ethernet Adapter Cards
ConnectX-4 Lx adapter cards enable data centers to leverage leading interconnect adapters to increase their operational efficiency to improve server utilization and maximize application productivity, while reducing total cost of ownership (TCO).
ConnectX-4 Lx provides support for 1, 10, 25, 40, and 50GbE bandwidth, sub-microsecond latency and a 70 million packets per second message rate. It includes native hardware support for RDMA over converged Ethernet, Ethernet stateless offload engines, overlay networks, and NVIDIA GPUDirect® Technology.
Learn More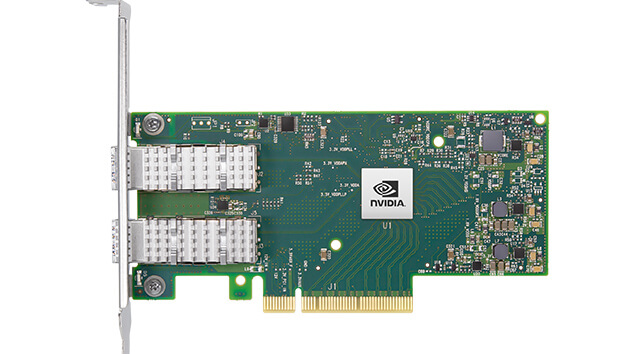 PORT SPEEDS
2×25/1×50Gb/s
MESSAGE RATE (DPDK)
70 million msgs/sec
OFFLOADS, OVERLAY NETWORKS AND MORE
Multi-Host Technology
Innovative NVIDIA Multi-Host® technology enables data centers to design and build scale-out heterogeneous compute and storage racks, with direct connectivity between compute elements and the network.
Overlay Networks
In order to better scale networks, data center operators create overlay networks to encapsulate traffic from individual virtual machines over logical tunnels such as NVGRE and VXLAN. This solves network scalability issues, but places higher loads on the CPU. ConnectX-4 Lx offloads overlay networks from the CPU.
RDMA over Converged Ethernet
ConnectX-4 Lx supports RoCE specifications delivering low-latency and high- performance over Ethernet networks. RoCE provides efficient low-latency RDMA services over Layer 2 and Layer 3 networks.
Hardware-based I/O virtualization
Multi-Host technology (specific OPNs)
Connectivity to up-to 4 independent hosts (specific OPNs)
Low latency RDMA over Converged Ethernet
CPU offloading of transport operations
Highest performing boards for applications requiring high bandwidth, low latency and high message rate
Industry leading throughput and latency for Web 2.0, Cloud and Big Data applications
Cutting-edge performance in virtualized overlay networks
Efficient I/O consolidation, lowering data center costs and complexity
Virtualization acceleration
Contact Our Team
If you need more information about our products do not hesitate to contact our dedicated team.
Contact Us