Switch-IB 2 EDR 100Gb/s InfiniBand Smart Edge Switches
NVIDIA® Mellanox® SB7800 switches provide up to 36 ports of 100Gb/s full bi-directional bandwidth. Available in both managed and externally managed models, SB7800 switches are ideal for top-of-rack leaf connectivity or for small to extremely large clusters. Today's high-performance computing (HPC) and AI environments need every bit of bandwidth delivered by these Enhanced Data Rate (EDR) InfiniBand high-speed smart switches.
Built with NVIDIA Mellanox's Switch-IB® 2 InfiniBand switch application-specific integrated circuit (ASIC), the SB7800 series provides up to 36 ports of 100Gb/s full bi-directional bandwidth. The SB7800 smart network switch enables NVIDIA In-Network Computing through NVIDIA Mellanox Scalable Hierarchical Aggregation Protocol (SHARP)™ technology.
Learn More
POWER CONSUMPTION (ATIS)
136W
WORLD-CLASS INFINIBAND PERFORMANCE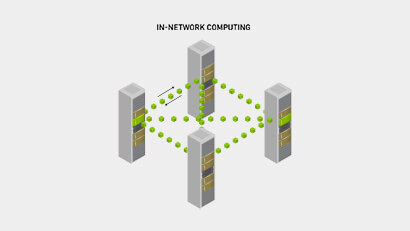 In-Network Computing
NVIDIA Mellanox InfiniBand SHARP, In-Network Computing offloads collective communication operations from the CPU to the switch network, decreasing the amount of data traversing the network, dramatically reducing the time of Message Passing Interface (MPI) operations, and improving application performance by an order of magnitude.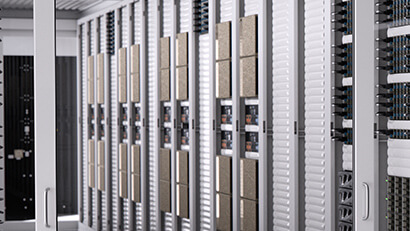 Self-Healing Networking
NVIDIA Mellanox InfiniBand with self-healing networking capabilities overcomes link failures and achieves network recovery 5,000X faster than any software-based solution—enhancing system performance, scalability, and network utilization.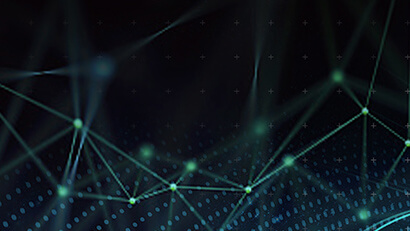 UFM Management
NVIDIA Mellanox Unified Fabric Management (UFM®) platforms combine enhanced, real-time network telemetry with AI-powered cyber intelligence and analytics to realize higher utilization of fabric resources and a competitive advantage, while reducing OPEX.
Standard Switches
36 EDR 100Gb/s ports in a 1U switch
Up to 7.2Tb/s aggregate switch throughput
Ultra-low latency
InfiniBand Trade Association (IBTA) specification 1.3 and 1.2.1 compliant
Quality-of-service enforcement
1+1 power supply
Managed Switches
Integrated subnet manager agent (up to 2k nodes)
Quick and easy setup and management
Intuitive command-line interface (CLI)
Can be enhanced with Mellanox UFM
Temperature sensors and voltage monitors
Fan speed controlled by management software
Industry-leading switch platform in performance, power, and density
Collective communication acceleration
Quick and easy setup and management
Maximizes performance by removing fabric congestions
Backwards compatible to Fourteen Data Rate (FDR) technology
| | | | | | | | | | |
| --- | --- | --- | --- | --- | --- | --- | --- | --- | --- |
| | Link Speed | Ports | Height | Switching Capacity | Cooling System | Interface | Number of PSUs | Management | Subnet Manager |
| SB7800 | 100Gb/s | 36 | 1U | 7.2Tb/s | Air cooled | QSFP28 | 2 | Inband/Outband | + |
| SB7890 | 100Gb/s | 36 | 1U | 7.2Tb/s | Air cooled | QSFP28 | 2 | Inband | - |
Contact Our Team
If you need more information about our products do not hesitate to contact our dedicated team.
Contact Us