ConnectX-5 EDR 100Gb/s InfiniBand
EDR 100Gb/s InfiniBand Host Channel Adapter
Leveraging 100Gb/s speeds and innovative NVIDIA In-Network Computing, NVIDIA® Mellanox® ConnectX®-5 adapter cards achieve extreme performance and scale. ConnectX-5 enables supercomputers, hyperscale, and cloud data centers to operate at any scale, while reducing operational costs and infrastructure complexity.
Single/Dual-Port Adapter Supporting 100Gb/s
ConnectX-5 Virtual Protocol Interconnect® (VPI) adapter cards support two ports of 100Gb/s throughput for InfiniBand and Ethernet connectivity, low latency, and high message rate, plus PCIe switch and NVMe over Fabrics (NVME-oF) offloads, providing a high-performance and flexible solution for the most demanding applications and workloads.
Learn More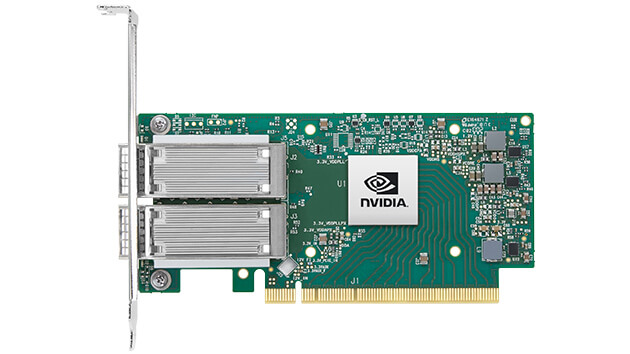 TOTAL BANDWIDTH
200Gb/s with ConnectX-5 Ex
MESSAGE RATE
200 million messages/sec
DRIVING NEW CAPABILITIES FOR ADVANCED APPLICATIONS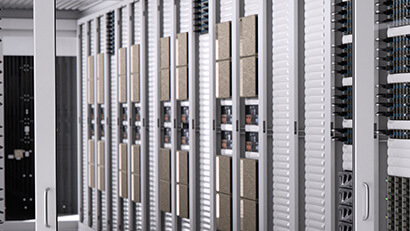 High-Performance Computing (HPC)
ConnectX-5 provides exceptional networking performance for demanding HPC and deep learning workloads with message passing interface (MPI) and Rendezvous Tag Matching offloads, as well as support for adaptive routing, out-of-order RDMA data delivery, dynamically connected transport, and burst buffer offloads.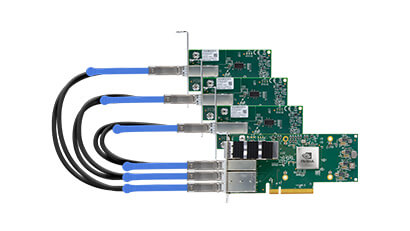 NVIDIA Mellanox Multi-Host
ConnectX-5 enhances the NVIDIA Mellanox Multi-Host® technology by enabling up to four separate hosts without any performance degradation.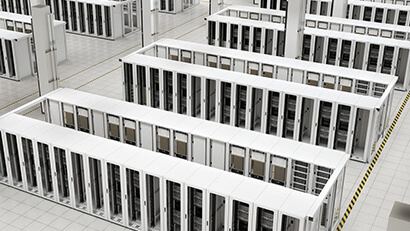 Storage
ConnectX-5 offers further enhancements by providing NVMe-oF target offloads, enabling efficient NVMe storage access with no CPU intervention for improved performance and lower latency.
Up to 100Gb/s per port
Total of 200Gb/s with ConnectX-5 Ex on PCIe Gen4 servers
Support for NVIDIA Multi-Host and NVIDIA Mellanox Socket Direct® configurations
Adaptive routing on reliable transport
Embedded PCIe switch
Available in a variety of form factors: PCIe standup, NVIDIA Socket Direct, OCP2.0, OCP3.0, NVIDIA Multi-Host, and IC standalone
Industry-leading throughput, low latency, CPU utilization, and high message rate
Enables higher HPC performance with new MPI offloads
Advanced storage capabilities, including NVMe-oF offloads
Support for x86, Power, Arm, and GPU-based compute and storage platforms
Contact Our Team
If you need more information about our products do not hesitate to contact our dedicated team.
Contact Us