Ethernet Storage Fabric (ESF) — Simplicity, Performance, Integration and Efficiency
Enterprises of all sizes are moving away from legacy, monolithic storage systems and datacenter silos, and embracing hyperconverged infrastructure (HCI) as the unified, scalable and efficient platform for their datacenters and clouds. The key to achieving improved efficiency and simplified deployment is the integration of compute, virtualization, and software defined storage into a single unified HCI platform. HCI demands an advanced, high performance network that can support this unified compute and storage traffic load, and the Mellanox Ethernet Storage Fabric (ESF) is the perfect hyperconverged network. Together Nutanix HCI with a Mellanox ESF delivers a unified enterprise cloud experience across your entire IT environment. Combining the agility and one–click simplicity of a public cloud with the security, control, predictable economics, and performance needed in a private cloud, Nutanix enterprise cloud combined with Mellanox ESF technology, streamlines data center operations with consumer–grade management.
Any Workloads, Any Configurations
A broad range of business applications running on Nutanix enterprise cloud are deployed not only on premises, but also in multi-cloud environments. The Mellanox ESF delivers best performance, flexibility, and scalability to make the same network fabric suitable and transparent for all these applications in any configurations.
Key Benefits
End-to-end 10/25/40/50/100G networking
RoCE hardware acceleration
VXLAN/EVPN for Datacenter Interconnect (DCI)
Open switching platform (Mellanox NOS, Cumulus Linux, etc.)
Sweet Symphony of Multi-Cloud Networking
Hybrid cloud is synonymous with agility, scalability & efficiency. Still not sold? What if you could eliminate complex deployment, streamline disjointed operations, and negate the risk of costly disruptions? Let's talk business continuity across your multi cloud environment.
In this joint webinar with Mellanox and Nutanix, we cover:
Nutanix Enterprise Cloud overview
Mellanox Multi-Cloud Networking
Mellanox and Nutanix AHV Solutoin
Best practices for provisioning and migrating business-critical applications to multi-cloud environments (Nutanix multi-clouds over Mellanox DCI)
How cloud operations can be optimized & performed seamlessly (NEO™ & Nutanix Prism Central)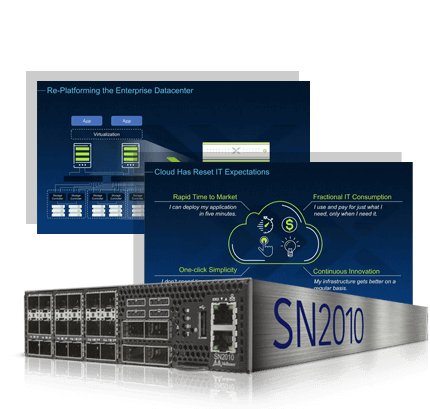 Purpose-built Nutanix HCI Switch
The Mellanox ESF provides the network underpinning for Nutanix enterprise cloud infrastructure. Designed to make the network transparent, the Mellanox ESF switches are built to meet the specific requirements of Nutanix racks, from sufficient server connectivity, guaranteed performance for all workloads, enterprise-class redundancy and availability, and ultimately the cost and operation efficiency. The Mellanox SN2010 switch is the perfect Top of the Rack switch for Nutanix HCI.
Key Features
10/25G optimized, Nutanix Ready
Right port count for optimal utilization
Two switches in 1RU for HA
Smallest footprint and lowest power
Less $ on networking, more $$$ on your data
Tightly integrated with Nutanix AHV
To ensure a transparent, fully automated experience for application provisioning and mobility, data backup and disaster recovery, Mellanox ESF is integrated with Nutanix enterprise cloud in the management plane. Through REST APIs, Mellanox network orchestration and management software, NEO™ automates network provisioning for cloud operations within Nutanix Prism, and eliminates complex and expensive manual network configuration for numerous network devices in a single cluster or multiple clouds.
Key Features
Automated VLAN provision
DCI with VXLAN/EVPN for multi clouds
Two switches in 1RU for HA
Real-time network visibility and monitoring
Blueprint for Nutanix Calm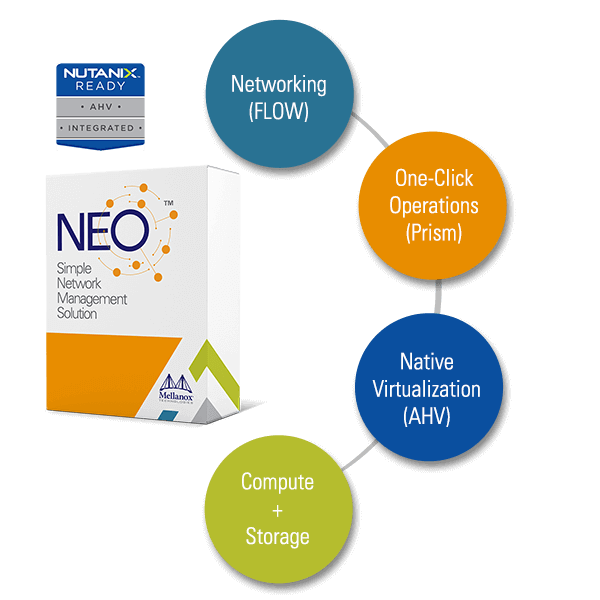 Contact Our Team
If you need more information about our products do not hesitate to contact our dedicated team.
Contact Us